PHASE 2: The Huntington Park Project
We're excited to announce that HML was awarded a $500,000 grant from the NYS Office of Parks, Recreation and Historic Preservaton. Phase 2 is planned to include the hillside scramble and children's play area, the green theater, picnic area, ADA pathways, and additional plantings. The coming year will be filled with submitting paperwork to the Parks Department afterwhich they will give us the go-ahead to begin finding a landscape architect to finalize the design, draft construction documents, and create the bid manual. It's complicated, and slow, but well worth the effort!
PHASE 1: Huntington Park Project
In August of 2021, Treffeisen and Son was awarded the contract for Phase 1 of the Park Project. After submitting the required forms to the NYS Office of Parks Recreation and Historic Preservation, work began.
Scope of Phase 1: this phase of the park design will include new historic, LED lamp posts, the Terrace Overlook, sledding hill, and hillside plantings.
Completed in the fall of 2021: the bases for the lamp posts were installed, and trenches were dug to lay the wire between the lamp posts. Throughout the winter, the wire will be pulled between the posts and the electric box will be installed in the library basement. Thanks to many donations and volunteers, 650 daffodils were planted in the park!
Spring of 2022: the hillside will be graded to ensure safe sledding and plants will fill the open areas of the hill.
Conceptual Design by Stimson Landscape Architects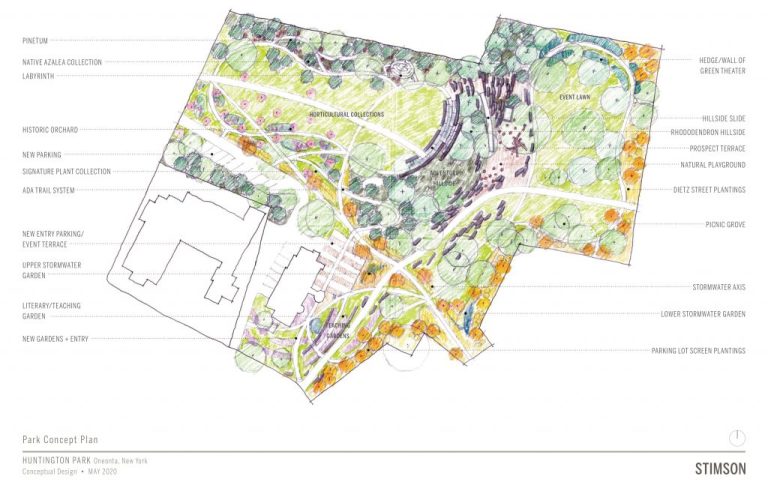 Stimson Landscape Architecture created a conceptual design for the Huntington Park that will be implemented in the spring of 2021. It is an inspired vision for the park that was designed by talented landscape architects. The Stimson team took elements from Henry Huntington's 100-year-old plan and added areas that will appeal to today's residents.
You can also view the complete
Community Presentation slides here
.
Survey Results are in!
Based on the survey results, elements of the park design will be modified to meet the expectations of the community. The area of the design that earned the most stars was the Landscape Stage. The Stimson team envisions this area to have a "green" backdrop for a naturalized and casual stage. People also love the idea of a literary garden with perennials and a reading nook. And 94% of respondents support a sledding hill and 80% want a slide in the hillside! Read more about it in the
Survey Summary
.
Huntington Park Lighting Design
Green Mountain Electric Supply developed a lighting design for the Huntington Park that includes historical lampposts to duplicate those found on Main Street. Lighting is a crucial element to the overall park design and should be carefully integrated into the overall plan. The design can be found
here
and cost estimates
here
.