The Huntington Memorial Library
The primary goal of the New York State room is to provide a collection of historical and genealogical materials covering Otsego County. Its secondary goals include providing access to the collection and maintaining the condition of the collection.
Please check our online catalog when searching for an item in our collection. Go to 4cls.org and enter your search term.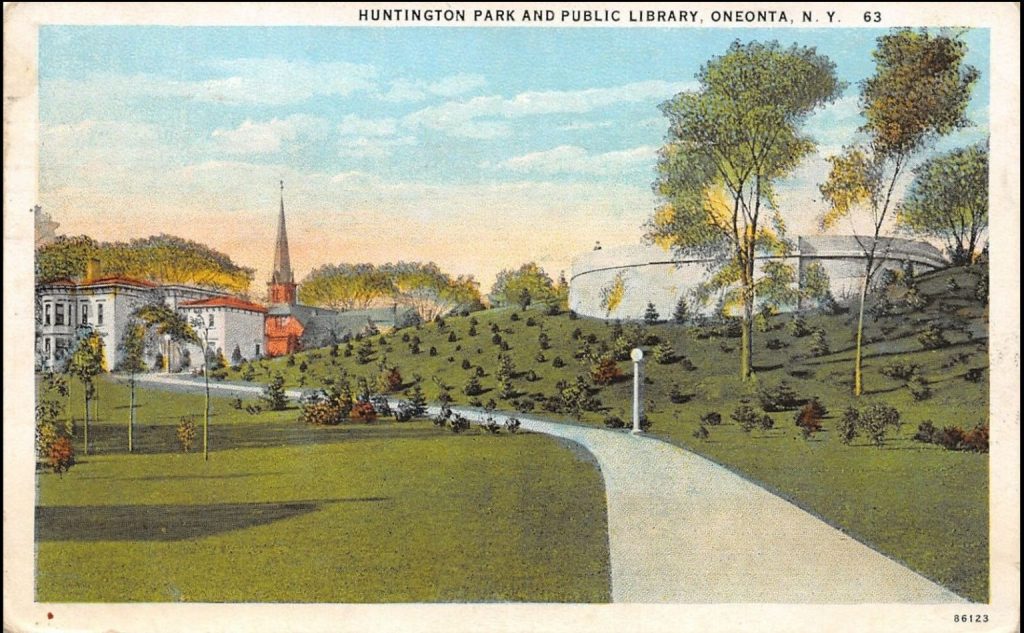 ---
Online Resources
THE DAILY STAR IS ONLINE
We're excited to announce the newest resource to the NY Room. You can now view online copies of THE DAILY STAR Newspaper between 1890 and 1925. The issues are browsable or fully searchable by year, title and keyword.

MORE ONLINE NEWSPAPERS

Another great resource is NEW YORK HISTORIC NEWSPAPERS where many NYS newspapers have been digitized. The following is a list of the Oneonta area newspapers but check their website for more from Otsego County!
Oneonta Herald and Democrat, 1874-1882
Herald and Democrat, 1882-1883
Oneonta Herald, 1853-1873, and 1884-1947
The Evening News, 1891-1???
Freeman's Journal, 1924-current

Family History Center
Huntington Memorial Library is an authorized branch of the Family History Library of the genealogical Society of Utah. The Society is part of the Church of Jesus Christ of Latter-Day Saints (LDS). They have been a rich source of genealogical and historical materials on microfilm from the Family History Library. Recently, they have digitized all microfilm and it is available on their website: familysearch.org. On the website, click on the search box and select Records to begin.The records include:
Census schedules
Vital Records
Church, Bible, Family, and Cemetery Records
Court Records
Immigration Records
Biographies
Maps and atlases
Newspaper Records
Probate Records
and more!
Maps and Atlases
We are currently creating a searchable file of the contents and it will be availabe here when completed.
Otsego county atlases – 1868, 1903
Delaware County atlas 1869
Chenango County atlas 1875
Oneonta Street maps – 1910, 1927
New York State atlases
Local topographical maps
Photographs and Postcards
Our holdings include over 5,000 postcards and photographs of area scenes. We are currently creating a searchable file of the contents and it will be availabe here when completed.
Scrapbooks
Local organizations: DAR, church records, Oneonta Club, Burroughs Club
Oneonta Town and City records: Civil War, City Charter, Town Clerk's records
Clippings books: WWII, Oneonta High School, city news, obituaries
1,300+ Ed Moore columns
Special Collections
Fred E. Beach Photograph Collection
DAR lineage and record books
Family Collections: Bartow, Bresee, and Ford
Genealogy Materials
Census Records on microfilm
NY State census indexes: 1790-1870
Otsego County federal census: 1790-1930
Otsego County state census: 1825-1925
Newspapers on microfilm
Evening News, 1891-1892
Home and Abroad, 1869-1870
Oneonta Daily Local, 1887-1888
Oneonta Daily News, 1889-1891
Oneonta Daily Star, 1891-present
Oneonta Herald, 1853-1946
Oneonta Herald & Democrat, 1874-1884
Oneonta Press, 1884-1891
Oneonta Spy, 1887-1891
Susquehanna Independent, 1868-1869
Other Resources
Oneonta City Directories, 1887-1994 on microfilm
Military histories
Genealogies and family histories
County and local histories
Obituaries and cemetery records
Genealogical dictionaries
Handbooks and guides
Family History file