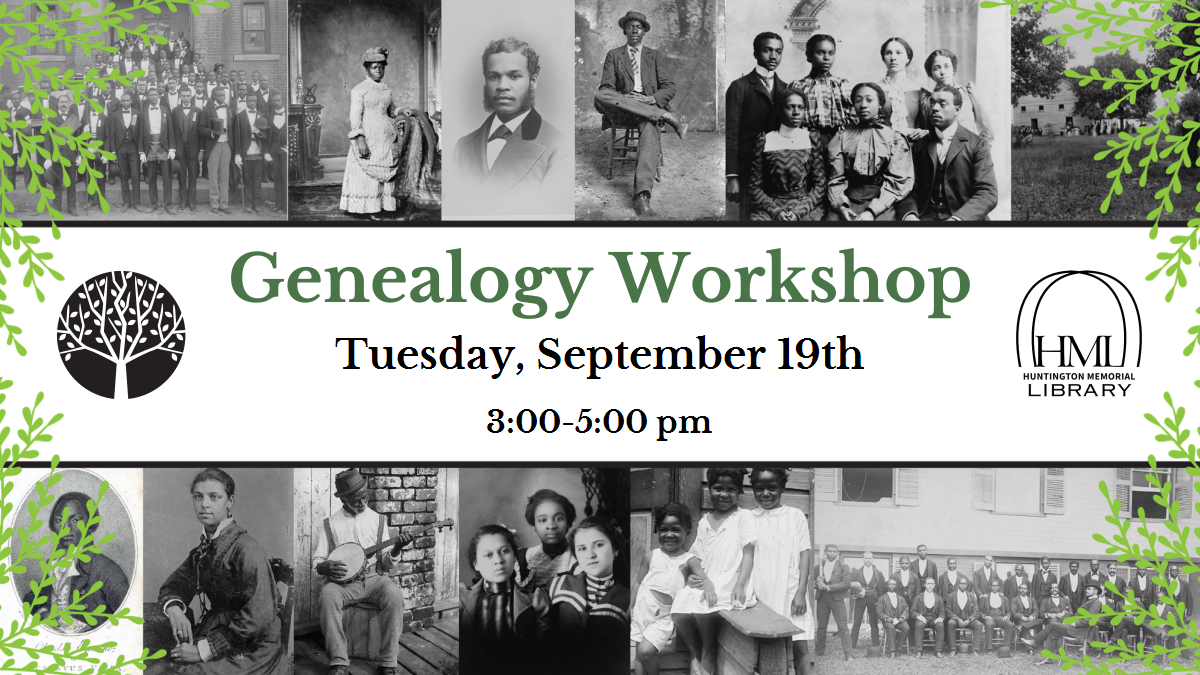 Genealogy Workshop
Tuesday, September 19, 3:00-5:00 pm
Join Digital Services Librarian Brian D. Lee to learn how to navigate:
Ancestry.com and FamilySearch.org
HathiTrust Database
NYS Historic Newspapers
DNA results and what to do with them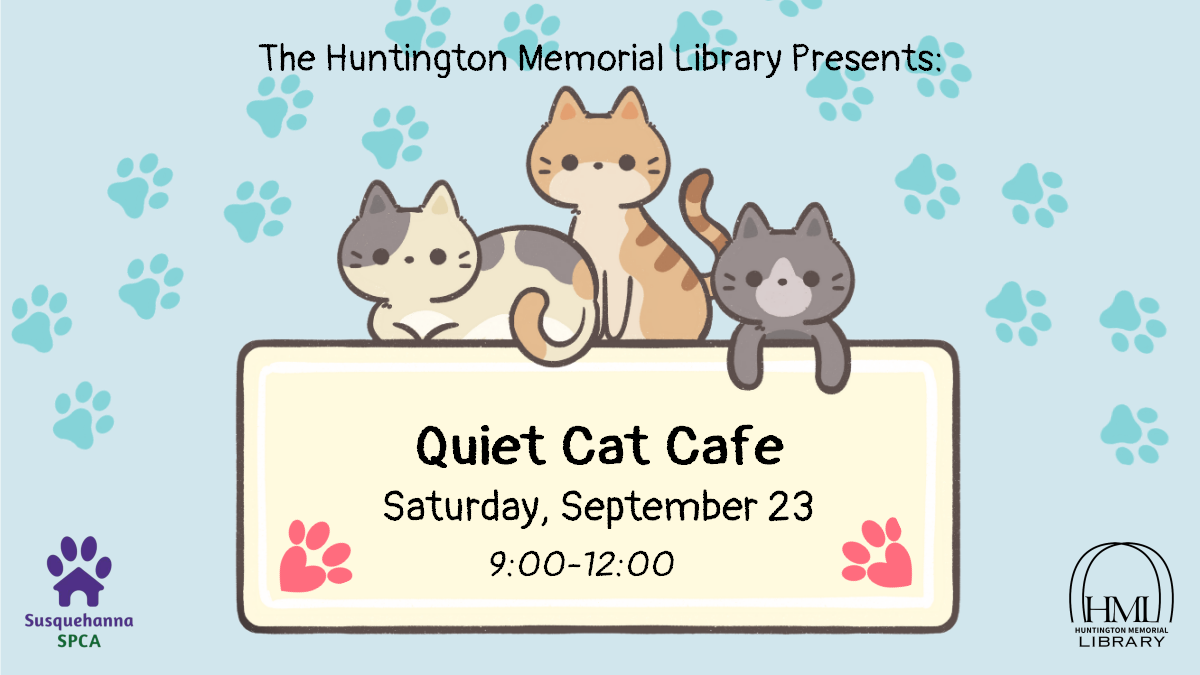 Quiet Cat Cafe
Saturday, September 23, 9:00-12:00 noon
Looking for a new fluffy friend or just some fuzzy cuddles? Then come visit our first ever Quiet Cat Cafe in partnership with the
Susquehanna SPCA
!
Grab a drink, have a snack, and play with some adorable, and adoptable, kitties!
Same day adoption available!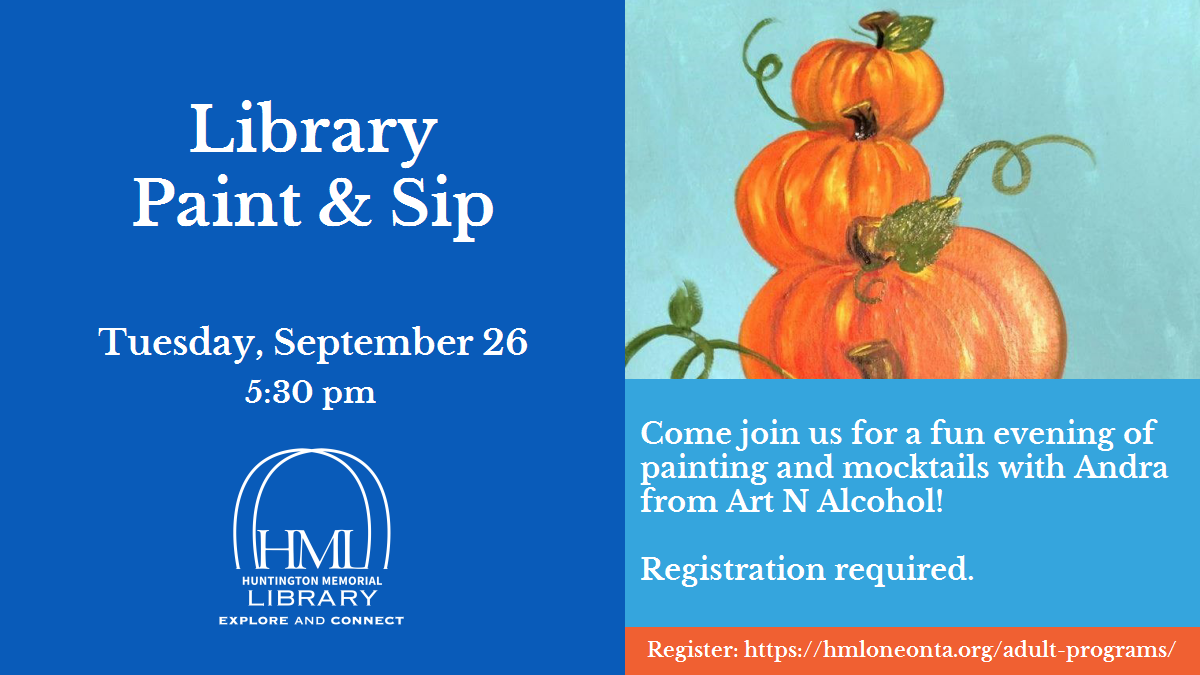 Library Paint & Sip
Tuesday, September 26th at 5:30 pm
Come join us for a fun evening of painting and mocktails with Andra from Art N Alcohol!
Andra will provide step by step instruction to paint these beautiful pumpkins, a perfect wall decoration for the fall season.
Please wear clothing you don't mind getting stained.
Registration Required.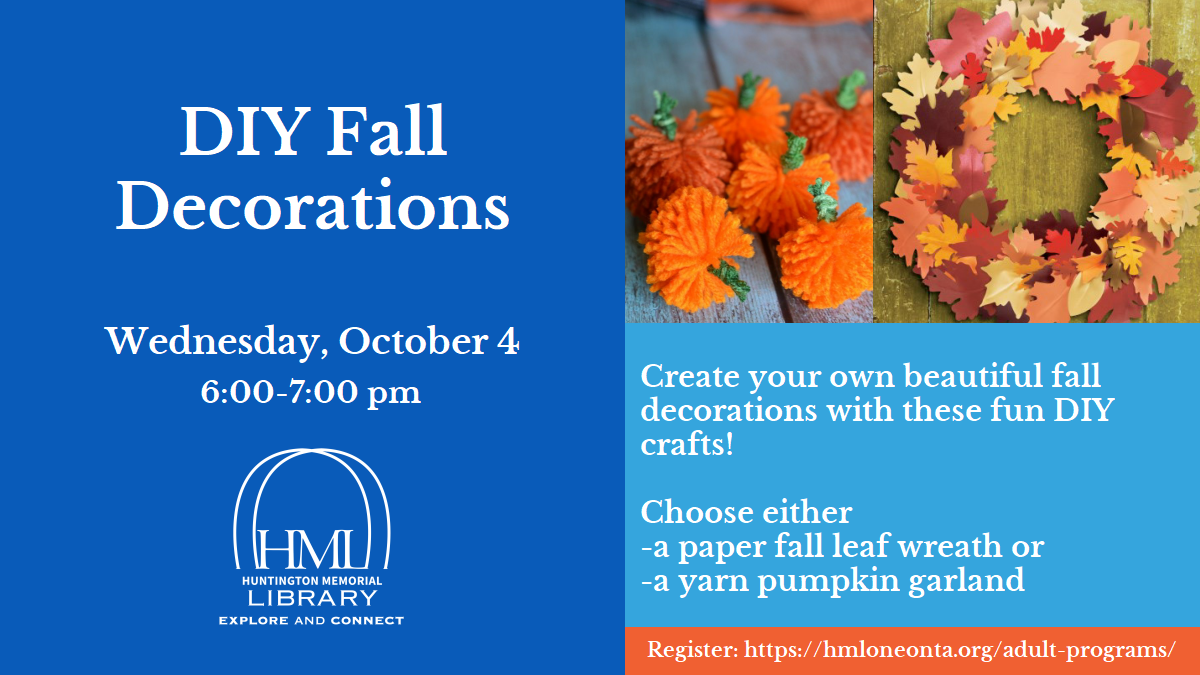 DIY Fall Decorations
Wednesday, October 4, 6:00-7:00 pm
Come create your own beautiful fall decorations with these easy DIY crafts.
Registration required.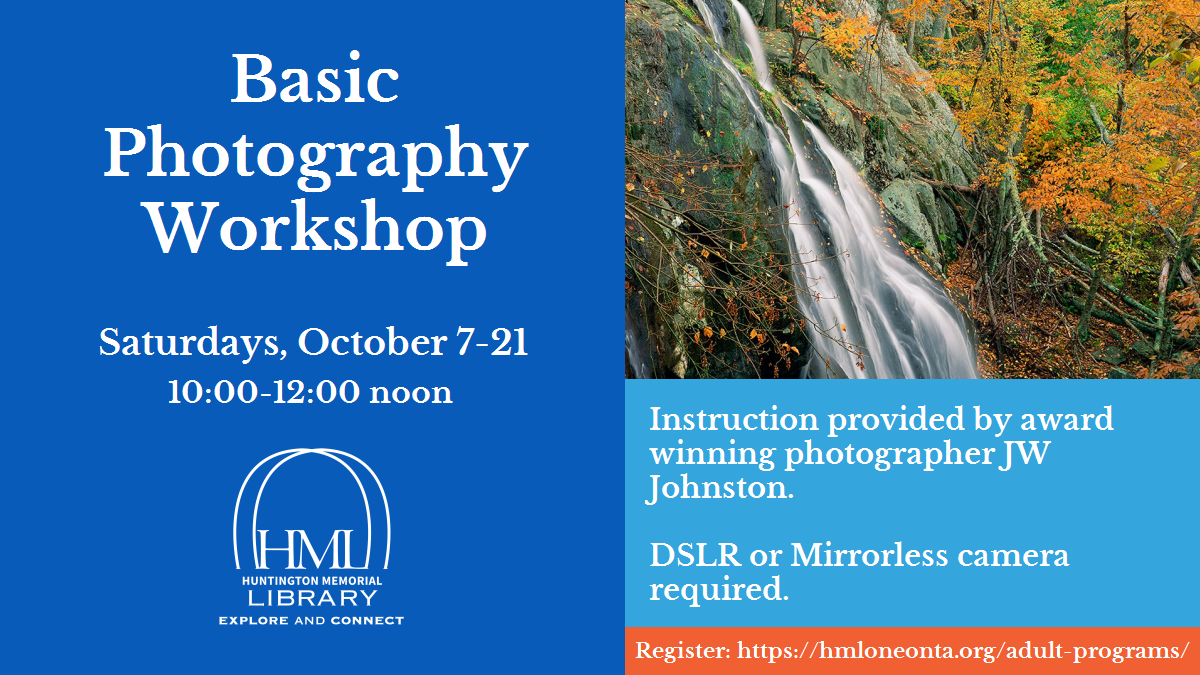 Basic Photography Workshop
Saturdays, October 7-21 from 10:00-12:00 noon
This 3 session workshop is designed for photographers with DSLRs and Mirrorless cameras.
It starts off with the basics, allowing you to get comfortable with the fundamentals and builds your foundation of technical and aesthetic photographic abilities from the ground up.
Classroom material will be reinforced by camera exercises between class sessions.
In this workshop you will learn:
• ISO
• Aperture
• Shutter Speed
• Exposure Triangle (ISO, Aperture, Shutter Speed working together)
• Metering
• Focusing Technique
• White Balance
• Photographing Motion
• Depth of Field
• File Types (JPEG & RAW)
• The Importance of Manual Mode
• Filters
…and much more.
Instruction will be provided by award winning photographer JW Johnston.
Please bring your DSLR or Mirrorless camera to the first session.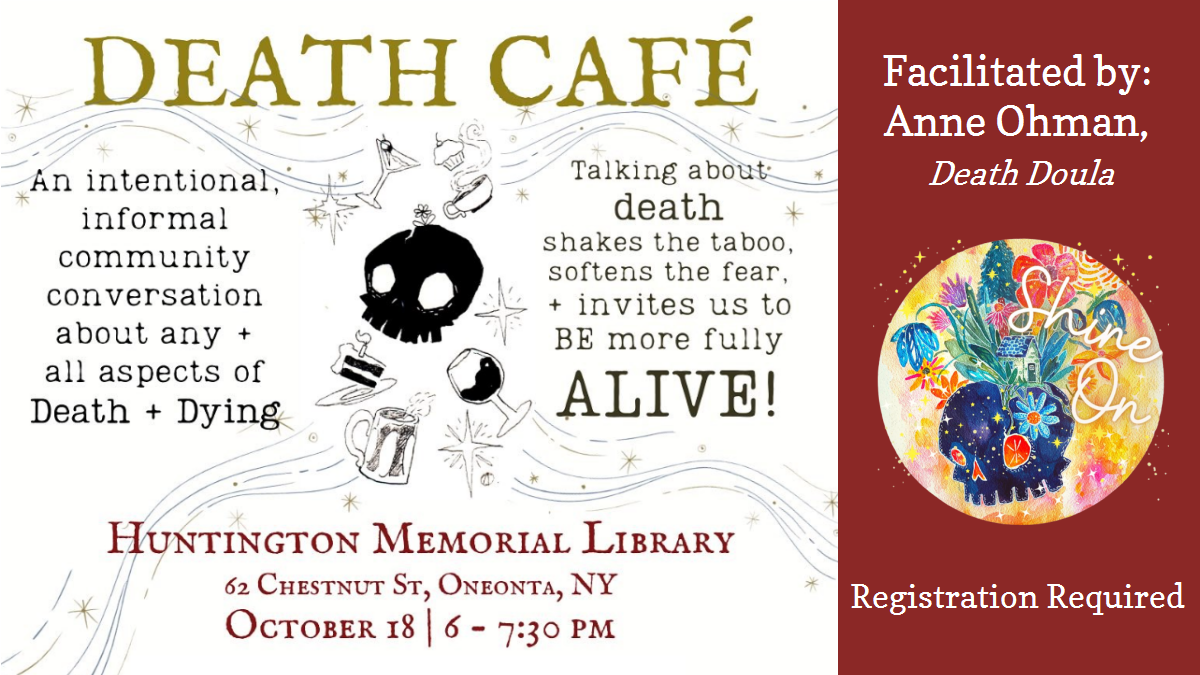 Death Cafe
Wednesday, October 18, 6:00-7:30 pm
Come join us for our first ever Death Cafe, facilitated by Anne Ohman, the Shine On Death Doula!
What is a Death Cafe?
A Death Cafe is "a deliberate, safe community space in which we can share our questions, curiosities, fears, beliefs, and stories about any and all aspects of Death and Dying.
Talking about death and end-of-life options shakes the taboo, softens the fear, and invites us to be more fully Alive."
Spots will be limited in order to keep the conversation intimate and to ensure that everyone has a chance to speak.
Registration opens on 10/4.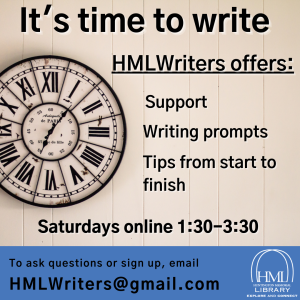 HML Writers Group
Saturdays from September 2nd to December 3rd
1:30-3:30
The goal for HML Writers Group is to help writers be comfortable with themselves, with their own styles and their own needs. We're not all novelists, or poets, or short story writers. We're not all speed writers; trying to go-go-go on a prompt for ten minutes isn't everybody's writing style. And that's all right. Writers bring what they're working on to read out loud, or pass out copies for critique. More often than not, most of the meeting time is devoted to the act of writing, with timers set and prompts given as a springboard for a story or poem to take flight.



To register, email hmlwriters@gmail.com.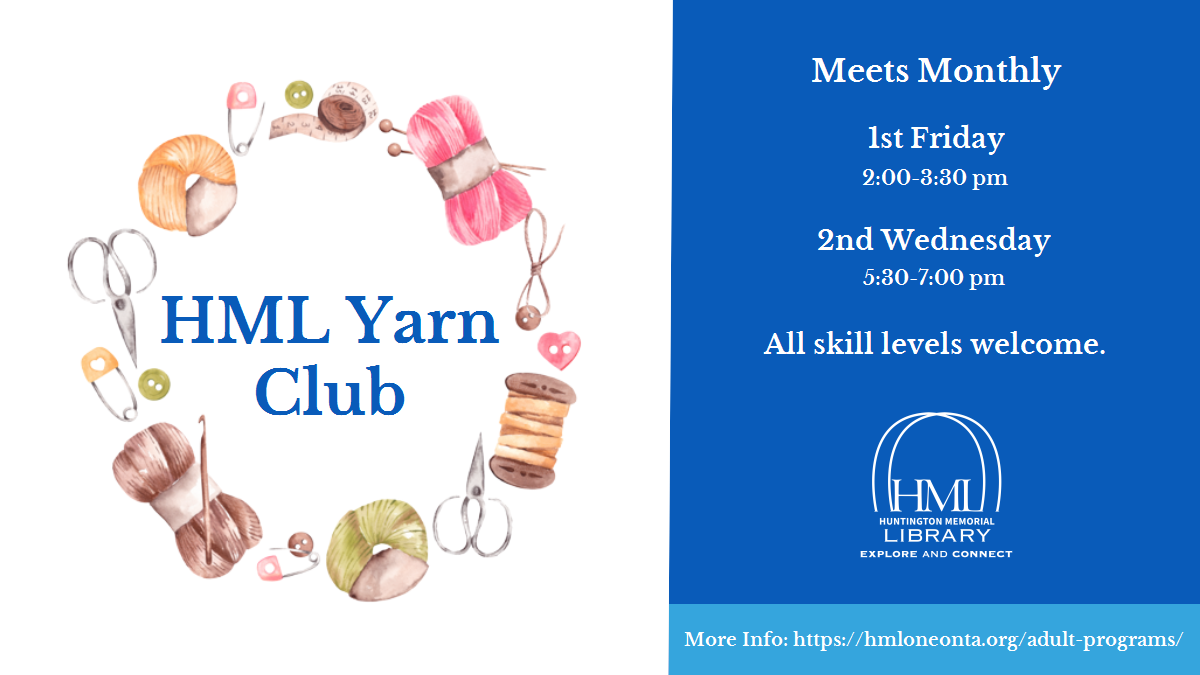 HML Yarn Club
Monthly Meetings 
1st Friday, 2:00-3:30pm and 2nd Wednesday, 5:30-7:00 pm
Do you crochet, knit, or do anything with yarn? Then come join us at our monthly Yarn Club!
This informal group is a great way to unwind, work on your latest project, and converse with your fellow crafters.
All skill levels are welcome.
This is a non-instructional program.
Please bring your own supplies.